Civil Engineering
The following services are routinely available.
Boundary Surveys
Topographical Surveys
A.L.T.A. Title Surveys
Aerial Topographic Survey Support
GPS Control Surveys
Monitoring Well Surveys
Environmental Surveying
Exhibit Maps
Rough Grading Plans
Precise Grading Plans
Structural Engineering
Structural evaluation of foundations and basement walls
Structural analysis and design of foundation systems for new buildings (mat slabs, caissons, basement walls, soldier pile walls, etc.)
Design of remedial foundation repairs for existing buildings
Tieback wall design for slope stability
Retaining wall analysis and design
Preparation of construction plans
Structural observation during construction
Overview
We provide full planning, design and construction services to assist you on your project. Our survey crews have vast experience in all phases of construction and utilize highly accurate and efficient GPS and ROBOTIC field equipment. Our civil engineers have experience with road and drainage design, culverts and retention basin, deep foundation structures and project management to insure your project stays on schedule and budget.

In accordance with the California Stormwater Quality Association (CASQA), American Geotechnical currently holds certifications for Qualified SWPPP Developer (QSD) and Qualified SWPPP Practitioner (QSP) to meet the requirements identified in the Construction General Permit.




Construction Related Services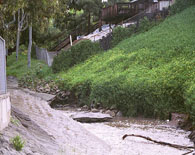 Construction Monitoring
Rough Grade Certifications
Sub-Grade Certifications
Subdrain Flow Verification
"As-Built" Topographic Surveys
Earthwork and Construction Quantity Verifications
All deign, mapping and drafting is produced entirely in AutoCAD or Carlson digital computer data format for immediate use by our Client's design members or consultants.