Mission Statement
American Geotechnical is a highly sought after team of engineering advisors to the construction industry. Our experts are trusted, adaptable, practical and inventive. We are passionate about solving geotechnical, civil and structural problems and providing responsive service.
American Geotechnical a team you can trust for groundbreaking solutions
Why are we different – decades of forensic experience allows us to identify and mitigate design risks for our clients
Core Values
CARING • INTEGRITY • EXCELLENCE
How It All Started
American Geotechnical was created in 1984 by our CEO, Gregory Axten. Since our inception AG has grown from a 400 square foot Palos Verdes Estates office to a multi-disciplined engineering and testing firm. AG has provided thousands of clients throughout the southwestern United States solutions to simple and complex engineering problems. AG has received multiple Honorable Mention Engineering Excellence Awards from the California Geotechnical Engineers Association. Our DSA, CalTrans and ACI certified lab and technicians aid our investigation and design teams by providing quality field and lab data. Our construction relates services are utilized by school districts, custom and tract home developers, cities/counties, and HOA's. We are successful in teaming with our clients to eliminate design failures and reduce liability by leveraging our 29 years of forensic engineering expertise.
Testimonials
"One of the pleasures in working with American Geotechnical is their customer service. Prior to working with AG we worked with three other geotechnical engineers and none come close to AG in service and the reports are clear, concise, and understandable. We have never had a construction delay. The AG staff has ensured our jobs run smoothly with their excellent field and office staff. I truly can not say enough about the superb quality of work."

− Residential/Commercial Builder/Developer
"Called three firms and yours was the first to respond and seemed professional, courteous, and I received my prints back without asking."

− Homeowner
American Geotechnical In The News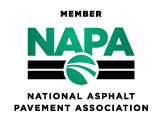 American Geotechnical elected to Associate membership in the National Asphalt Pavement Association (NAPA), the national trade association for the asphalt pavement industry located in Lanham, Maryland. Read the full story here